Doctors & Staff
Meet the experienced and friendly doctors and staff who make Charleston Vision Source the leading provider of vision care products and services in Charleston.
Dr. Alan Rada
Dr. Rada has been in practice since 1983. He graduated from Marshall University with a B.S. degree and from Southern College of Optometry with a Doctorate degree in Optometry. He is a Charleston native and a graduate of Charleston Catholic HS.
Dr. Rada and his wife, Debbie, have three children. Jennifer, his oldest daughter, is practicing law as an Assistant US Attorney here in Charleston. Alex, his son, is a pharmacist living in Charleston, SC. His youngest, Kelley, is an accountant and also lives in Charleston, SC. Dr. Rada and his wife love spending time with family, hiking and traveling.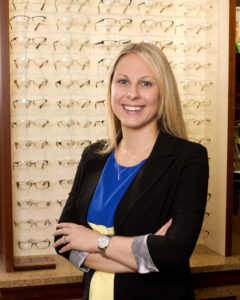 Dr. Laura Suppa
Dr. Suppa joined our practice in July 2014.  She graduated from the Indiana University School of Optometry in 2013 with a Doctorate in Optometry. She was Volunteer Optometric Services for Humanity (VOSH) President, a member of the Beta Sigma Kappa Optometric Honor Society, a member of the Gold Key International Optometric Honor Society, and received the Henry Hofstetter award for leadership and service. In 2014, she completed a highly regarded residency in Ocular Disease at the Huntington VA Medical Center. A Charleston native, she graduated from George Washington High School in 2004 and from West Virginia University in 2007 with a B.A. in Biology. Dr. Suppa is a member of the West Virginia Association of Optometry Physicians, the American Optometric Association, and the American Academy of Optometry. In November of 2014, she became a Fellow of the American Academy of Optometry. In November of 2017, she was named West Virginia Young Optometrist of the Year. She is also a past-president of the Junior League of Charleston. She lives in South Charleston with her Optometrist husband, Dr. Shawn Sammons and two cats.
Debbie Flinner: Team Leader
Debbie has been with this practice since July 1985. She has been in the optometric field since July 1983. She is a trained frame technician, contact lens technician, and ophthalmic technician, but currently oversees the operation of the office. She may schedule appointments, place orders, bill insurance, and answer most questions you may have. She is Past President (2 terms) of the WV Paraoptometric Assoc. and is currently WV Facilitator for Vision Source Representatives. Debbie and her husband, David, enjoy cooking together, church activities, and spending time with their son, Nicolas.
Amy Snead: Senior Paraoptometric
Amy came to us in December of 2012. She has proved to be a quick learner and is proficient at front desk, contact lenses, and patient pre-testing. She brings an extra amount of caring to our practice. She enjoys reading, camping, and tutors in her spare time. Her nephew, Connor, is the light of her life.
Lindsay Allen: Paraoptometric
Lindsay joined us in May 2016, with several years previous optical experience.  She has a great sense of humor and isn't afraid to use it.  Her high level of energy is never depleted, which helps out at home keeping up with her two sons Dylan and Jackson.
Paul Keddington:  Paraoptometric
Paul has over 30 years of experience in the optical field.  He has been with us since the beginning of 2019 and prides himself on being a "friendly professional".  To our delight, he also has a degree in culinary arts from Cordon Bleu.  He has two grown sons and enjoys spending time with his girlfriend, Linda.
Drema Elmore:  Paraoptometric
Brittani Slater:  Paraoptometric
Brittany Weems:  Paraoptometric
Deb Quinn:  Paraoptometric
Teresa Simms:  Paraoptometric